HIS EXCELLENCY MR. NDOCKI VICTOR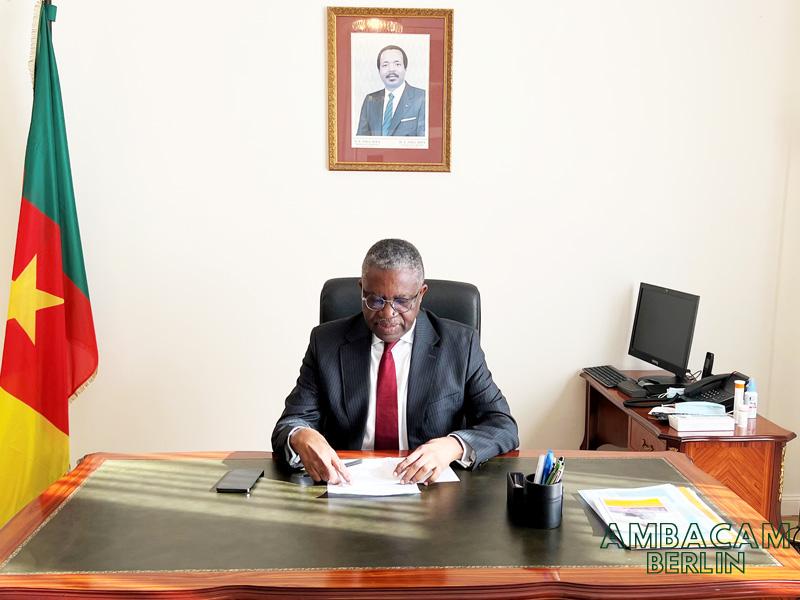 His Excellency Mr. NDOCKI Victor, Ambassador Extraordinary and Plenipotentiary of the Republic of Cameroon to the Federal Republic of Germany, Permanent Representative to the United Nations Centre in Vienna was born on 17 July 1955 in Bonandam-Njombe
He is holder of a Bachelor's Degree in Private Law and Economics from the University of Yaoundé, a Brevet d'Administration and a Master's Degree in Public Administration from ENA in Paris.
After obtaining his diploma of Police Commissioner at the National Police School of Yaounde in 1982, he began a rich and brilliant career in the Cameroonian Police, both in the central and regional services of the General Delegation for National Security (DGSN).
In the central services, he held the positions of Head of Service, Sub-Director and Director of Personnel, and Director of Training.
In the external services, he was head of the West Judicial Police in Bafoussam, head of the provincial service of the National Security of the North in Garoua, of the West in Bafoussam and of the East in Bertoua.
In 2003, he was called to the General Secretariat of the Presidency of the Republic as Chargé de Mission.
He returned to the DGSN in 2006 to occupy the prestigious position of Secretary General until December 2015.
It is a man with a wealth of experience that the Head of State, His Excellency PAUL BIYA appointed, on 2 November 2020, as Ambassador Extraordinary and Plenipotentiary of the Republic of Cameroon to the Federal Republic of Germany.
Ambassador NDOCKI Victor is a Divisional Commissioner, married and father of two children.
He holds several honorary distinctions including the Dignity of Grand Officer of the National Order of Valour.