CAMEROONIAN CULTURAL HERITAGE IN GERMANY: KNOWLEDGE AND PERSPECTIVES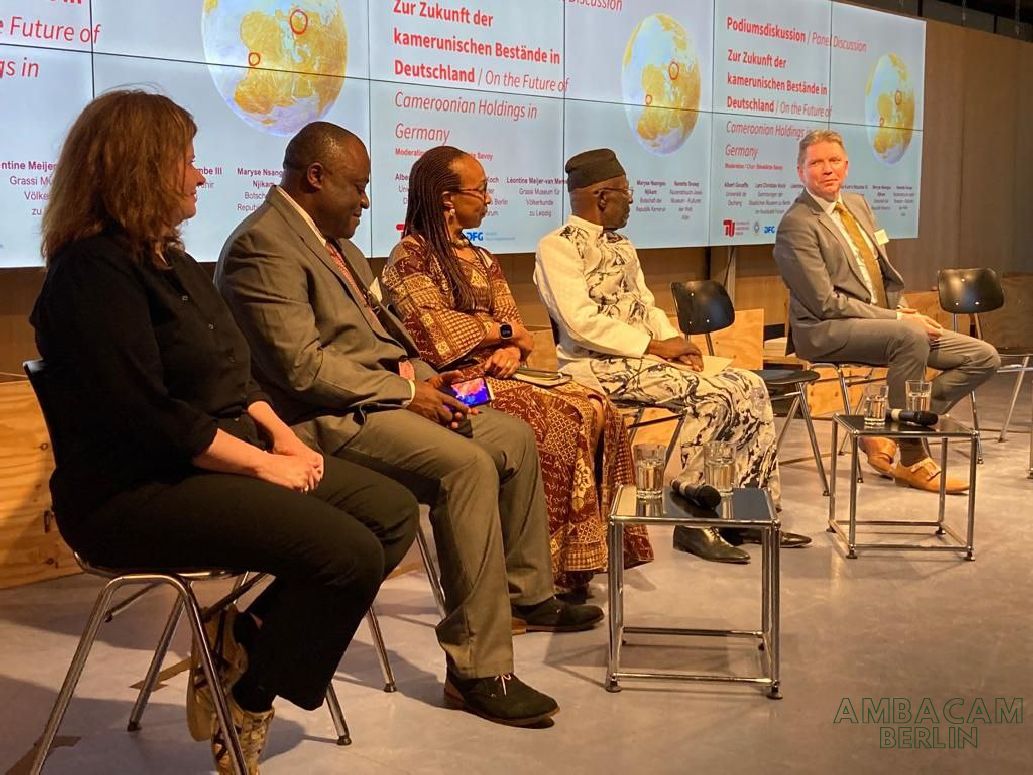 The international colloquium on the theme of "Cameroonian cultural heritage in Germany. Overview and perspectives", organised in collaboration with the Embassy of Cameroon in Berlin, was held from 1 to 3 June 2023 in the wake of Cameroon's National Day and as part of the publication of the collective work Atlas de l'absence. Le patrimoine culturel camerounais en Allemagne, a product of the Reverse Collection Stories research project. This DFG-funded project was carried out from start to finish by a group of researchers from the Technical University of Berlin and the University of Dschang, coordinated by Professor Bénédicte SAVOY from the Technical University of Berlin and Professor Albert GOUAFFO from the University of Dschang.
For three days, researchers and members of the public from various countries and backgrounds discussed and exchanged views on topics as diverse as "the reconstruction of historical facts", making it possible to reconstruct the often violent journey of cultural "entities" from Cameroon to Germany, the "restitution of knowledge", dealing with the often difficult choice of words and languages used (or to be used) to convey the history of expropriations and the perspective of the expropriated, and even "reconnecting with cultural heritage". Here, it was a question of exchanges on the future of Cameroon's cultural heritage after 100 years of absence, or even presence, of Cameroonian works and artefacts, which Professor SAVOY proposes to call "Agency", given the active role they played at the time of their forced "deportation" to Germany during colonisation between 1884 and 1919.
The 522-page opus is a ground-breaking work that traces the history of more than 40,000 Cameroonian agencies of power, worship and art on display in museums or stored in the underground passages of nearly 40 German museums. The German version of Atlas des absences. Cultural Heritage of Cameroon in Germany, published by Reimer, will be on the
market from July 2023. It is already available online from Arthistoricum (https://doi.org/10.11588/arthistoricum.1219).